What is ZANTEPAY?
ZANTEPAY is a cryptocurrency wallet company that was incorporated and based in Estonia. The aim is to integrate superb MasterCard features that will allow users of digital currency to use their currency anywhere, at any time they want. The ZANTEPAY plan is to build a complete digital assets multi-currency wallet that would be driven by debit card and strong payment services.The company's drive to bring flexibility for users of cryptocurrency and regular currencies payment systems will be backed by the Good Finance Company responsible for providing for financing options within Estonian's financial settings. The integration sought by ZANTEPAY will aim to cover and solve three challenges that have been militating against the smooth operations of the cryptocurrency market.
The challenges ZANTEPAY seeks to resolve are the high rate of charges levied on exchanges, digital asset inheritable nature and the issue of integration.
Introduction
There is no denying the fact that the mainstream acceptance and popularity of blockchain is on the increase. This has forced traditional investors to look for more exposure to the use of digital assets and blockchain based technologies, which has proved to be very good in recent times. Notwithstanding, there are persistent problems in the area of integrating the conventional world of traditional finance with that of the digital world. This is the sole reason ZANTEPAY was born—to provide a solid and reliable integration process through its Initial Coin Offering (ICO).
Product being offered by ZANTEPAY
Below are the various services ZANTEPAY would be offering once it commences full operations.
1. Wallet
ZANTEPAY wallet is the foundation upon which the company's entire service goal and objective is built. It will be the link to every existing fee-generating service. The company plan to host a crypto multi-wallet (BTC, LTC, ZNX support, while more cryptocurrencies will be added as the platform progresses) together with integrated intuitive exchange services.
2. ZANTEPAY Pre-Paid Card
The ZANTEPAY Pre-Pay-Card is scheduled for launch in the late quarters of 2018. It is designed and expected to become one of the fastest and most dedicated card committed to penetrate the digital market at a remarkable rate. This card will enable any holder of BTC, LTC, ETH and ZNX to spend their coins online or at anywhere that accept the use of traditional card payment system. Paired with digital wallet, the ZANTEPAY card will allow users of cryptocurrency to do anything with their digital money in their entire business and transaction endeavor.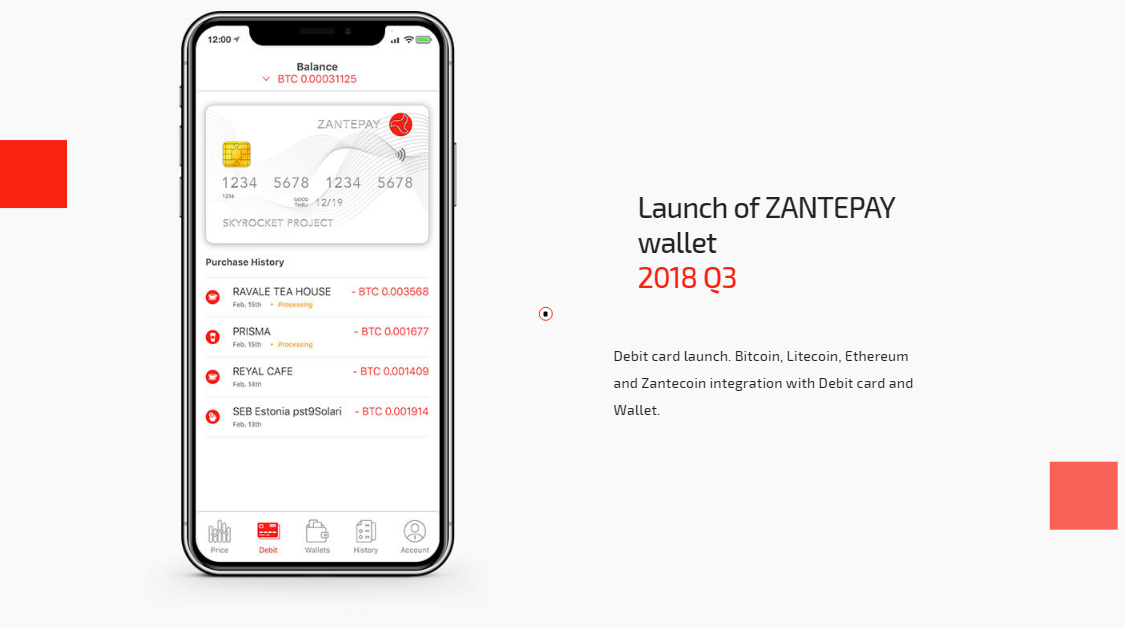 View Whitepaper
ZANTEPAY will act as the referee or intermediary that will be linking the card issuer with the ZANTEPAY wallet service and the crypto exchange. With ZANTEPAY, users can now have a unitary access to make use of the technical and complex financial infrastructure in the most intuitive and friendly way.
How ZANTEPAY Integration/Wallet plans to work
ZANTEPAY has now entered into a legally binding financial service contract with GFC Good Finance, an Estonia licensed payment institution that acts in line with European financial laws. The contract was entered into on the 3rd of April, 2018. The contract states the preliminary agreement between the two parties that have to do with ZANTEPAY debit card service. The final and conclusive part of the commercial contract will be signed by the parties come June 6, 2018.
Once the contract fully comes into implementation, the payment services of GFC offered to natural persons, legal entities and non-residents of Estonia would be extended to ZANTEPAY system and all users of its multi-wallet and debit cards. This will usher in the much talked about integration process, creating a wide range of ability to use debit cards and cryptocurrencies anywhere and at any time.
The collaboration with GFC also means that ZANTEPAY services will be complying with Anti-Money Laundry Rules, Banking secrecy, FATF and FSA requirements, including other rules and regulations guiding the provisions of payment services.
Another thing that will actually make the ZANTEPAY integration dream comes true is the fact that GFC is a member of the Society for Worldwide Inter Bank Financial Telecommunication (SWIFT). GFC also has an international banking account with IBAN code number as 45. GFC also operates as a principal member of MasterCard.
What ZANTEPAY is Planning to Offer
ZANTECOIN will be the primary ZANTEPAY original token that will operate within the ecosystem and its design is based on the Ethereum blockchain – ERC20, which will function as the mainstream cryptocurrency.
A 50% discount on every service offered in the ZANTEPAY ecosystem, provided that the user is making use of ZANTECOIN.
All users with their wallet will be offered minimal exchange fee which would allow them to have easy liquidity.
ZANTEPAY has created a beneficiary option on the ZANTE wallet which allows the user to assign someone in charge in the event that something happens.
ZANTEPAY ICO Token Details
The Pre-ICO token sale of the ZANTEPAY ecosystem has started since 15 March 2018. The price of a token is put at 0.05 Euro for one ZNX. Any interested investor can buy the token using ETH and get for themselves a share of the 600 million coins that is set aside for marketing activities. Another 800 million tokens will be invested in the future development of ZANTEPAY business operations, products, and management.
Further details on the token include:
• Token symbol—ZNX
• ICO amount set aside for supply
• 30 million pre-ICO ZNX token supply are available with a price tag of 0.05 Euro
• 70 million ZNX tokens for 0.1 Euro can be accessible to part-1 investors
• The second part of ZNX tokens will be selling for 0.14 Euro per token, and the amount of supply is 200 million
• The third part tokens will sell at 0.25 Euro at an amount of 300 million ZNX tokens
The token funds will be distributed according to the following structure:
• Marketing – 30%
• Users – 30%
• Foundation – 40%
ZANTEPAY Conclusion
The ZANTEPAY idea to incorporate cryptocurrency and our conventional services and make accessibility easier for users is a welcome one, and the company seems to issue a convenience that has never been seen on the crypto world before. It is a good and attractable idea that is exposing users to better and reliable flexible use of digital currency.
Learn more about ZANTEPAY
Website: https://zantepay.com/
Telegram: https://t.me/zantepay_ico
Twitter: https://twitter.com/zantepay
Facebook: https://www.facebook.com/ZANTEPAY/
Reddit: https://www.reddit.com/user/ZANTEPAY
LinkedIn: https://www.linkedin.com/company/zantepay/
Owner of article link below:
Bitcointalk profile:Hobo66